AEM Electronics V3 (35PSi) Water/Methanol Injection Kit, Suit Petrol & Diesel Engine, 1.15 Gallon, 30-3300
Regular price

$544.00 USD

Sale price

$544.00 USD

Regular price
Adding product to your cart
AEM V3 Water/Methanol Injection Kit, Standard Controller Internal MAP with 35psi max, 200psi Weatherproof WM Pump, V3 Injector, 1.15 Gallon Reservoir, Conductive Fluid Level Sensor.
THE AEM WATER/METHANOL INJECTION SYSTEM ADVANTAGE
Water/methanol injection for forced induction (turbocharged or supercharged) gas-powered race engines is a proven means for effectively reducing engine inlet air temperatures and suppressing harmful detonation. This allows racers to reliably increase boost and advance ignition timing—without using high-octane racing fuel—for power gains of up to 20%. AEM's Water/Methanol Injection Systems utilize the most robust hardware combined with more advanced features than any other comparably priced water/methanol system.
Water/Methanol for All Boost Levels of Forced Induction Gas Race Engines
AEM offers two different water/methanol controller designs for gas vehicles:
One is boost dependent for forced induction vehicles up to 35 PSI of boost (kit PN 30-3300). The Boost Dependent controller has an on-board manifold absolute pressure (MAP) sensor with a molded-in nipple for a boost hose pickup.
The second controller (Kit PN 30-3350) features a multiple input design that enables users to install AEM's Water/Methanol Injection Kit on ultra-high boost vehicles (above 35 PSI) using a 0-5v voltage-based external MAP sensor.
Note: FOR OPTIMUM RESULTS, ALL WATER/METHANOL INJECTION SYSTEMS AND FLOW GAUGES SHOULD BE RUN WITH AN (PN 30-3003). For additional insurance against unintended flow, particularly when the pump and tank must be installed higher than the injections nozzle, we recommend adding our optional (PN 30-3326).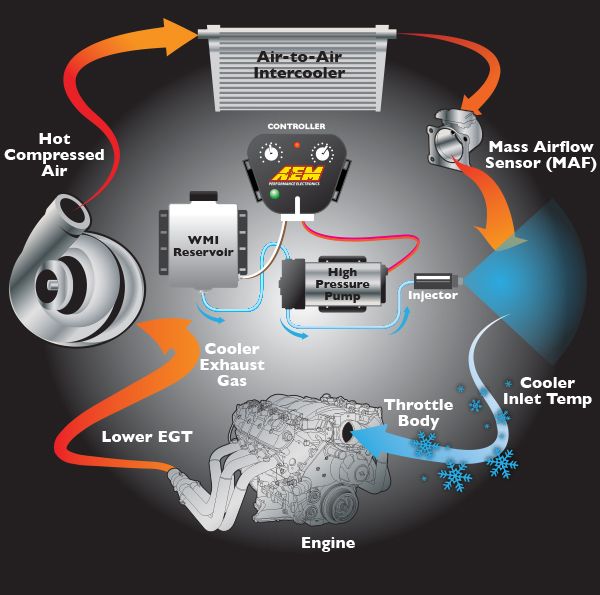 WATER/METHANOL INJECTION ADVANTAGES FOR GAS ENGINES:
Reduces Air Inlet Charge Temps
The term "liquid intercooling" with water/methanol injection refers to a highly atomized mist of water/methanol that is injected into the airstream and begins to evaporate. As it does, this evaporative effect reduces air charge temps by as much as 100 degrees, and delivers a more oxygen-rich air charge.
Reduces Detonation (Knock)
Water absorbs heat, and methanol is a cool burning, anti-knock rated fuel. When combined and introduced into the inlet stream, they can effectively increase your vehicle's anti-knock index so you can reliably increase boost pressure and advance ignition timing using pump gas.
Reduces Carbon Deposits
Modern vehicles fitted with Exhaust Gas Recirculation (EGR) devices for emissions control promote heavy carbon build up inside the air intake. This carbon build-up can create 'hot spots' in the combustion chambers that can cause detonation. Water/methanol injection has a 'steam cleaning' effect that reduces this carbon build up, and in some cases can increase fuel economy.

Innovative Injector Design Delivers Faster Cooling with Less Fluid Used
Our breakthrough injector design uses unique Swirl Generator Technology that improves atomization to deliver faster inlet temp cooling and uses less fluid to maintain inlet air cooling. We include three Swirl Generators that deliver 250cc, 500cc, and 1000cc of flow. The AEM V3 WMI injector is included in every AEM Water/Methanol kit and is a direct replacement/upgrade for the V2 injector in older systems (V3 Injector PN 30-3315).
Use left/right arrows to navigate the slideshow or swipe left/right if using a mobile device